Crossroads and possible directions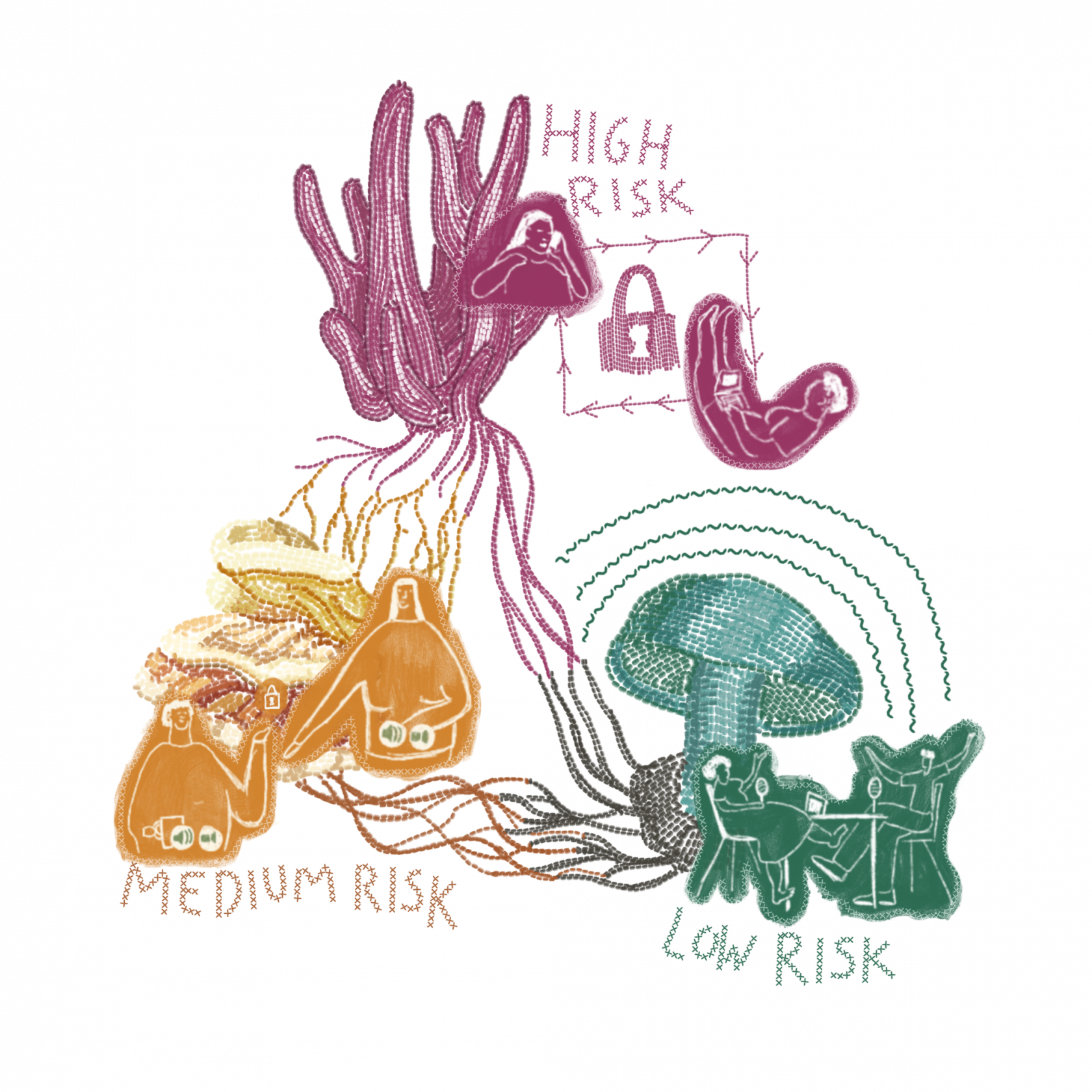 Your risk assessment and your survey combined will help you decide on the final format as well as specific technological solutions. Who and how many persons will attend, their contexts and needs will also determine what policies need to be in place to respond to material and strategic online participation needs. Alongside, it's important to accept limitations, map out risks and meet the challenges that might arise as to support the participation in your event.
Based on the questions/answers from your survey, and your risk assessment - here are some crossroads that we hope can be useful for you, as you will have to consider certain directions on format, technology and budget at this point.
CROSSROADS QUESTIONS

POSSIBLE DIRECTIONS

Safety: What are the risks this event might pose to your participants? Are some of them already exposed to risk?

If the event poses a high risk for your participants, this will determine your choice of technology and budget considerations, as well as the format of your event. If the risk is high, you might need an asynchronous type of event (email or audio) with secure channels of communication, and a budget item such as a digital participation grant, if possible.


If the risk is medium, you would need to have a limited number of participants on a closed video conferencing platform with clear safety protocols, including secure channels of communication with your participants, and a digital participation grant, if possible. Another option is to combine a synchronous and asynchronous type of activity.
If the risk is low, you could go for various formats, such as a livestreamed event on social media platforms, a live question and answer session, or an "open to all" drop-in session. However, your safety protocols would still have to be agreed on, as real-time interaction requires immediate response in case of serious violations of your principles of participation.

Number: How many people will attend your event? Limited or unlimited number of participants?
Every tool has limitations, including video conferencing platforms. Based on our experience and testing through events, for a limited attendance event (up to 55 persons attending), one option is to use a FLOSS platform with client-side processing load, such as BBB. For events hosting more than 55 and/or an unlimited number of participants, another option is to use a server-side processing platform.
 
There are additional risks and challenges that might arise should you opt for an unlimited number of attendees when choosing your format. For example, livestreamed events on social media platforms require real-time response regarding chat moderation, chat block options, etc., which can be challenging, and you will need your tech team on board for designing the protocols.
Access: Do your participants have access to a device, stable internet, uninterrupted electricity and a private space?

If the answer is no, and the cost of digital participation is not affordable, then you will need to adjust your format, such as an email, text or audio message-based asynchronous meeting, which might be the most accessible format.

Another option to meet most needs is to choose a platform that supports phone dial-in, and consider a digital participation grant in your budget for participation support, if possible.